Cleaning Your Pool
Your pool will need to be vacuumed and brushed at least once per week, twice per week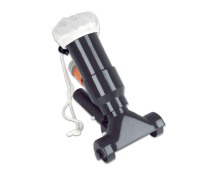 during warm spells. Neglecting to clean your pool, even if it looks clean can result in water quality problems; remember, "Prevention is far less costly than cure".

Brushing your pool

Don't wait until the surfaces feel slippery before carrying out this task; brush the pool surfaces even if they look clean. Algae suspended in your pool water is fairly easy to destroy, this is not the case if algae has a surface to cling to. Brushing the floor and walls of your pool will prevent algae and bio-film from gaining a foothold in your pool. Use a Nylon Pool Brush, brushes with stainless steel bristles will damage your pool Liner. Certain areas of your pool will need particular attention; pool water "dead spots" (areas in the pool that have poor water movement) and pool surfaces facing the sun are particularly prone to algae.

Vacuuming your pool

There is a wide selection of Vacuum systems for swimming pools. The design of your pool will determine which system is best for your particular pool. If your pool is fitted with a Cartridge Filter you will probably have little alternative to using the "Venturi" type Cleaner; these can be purchased for less than £50. If your pool is fitted with a Sand Filter and a relatively powerful main circulation, you should consider a Manual Suction System as the bare minimum system for your pool. Again the equipment required is relatively inexpensive, certainly less than £100. Automatic Suction Cleaners are also an option for Above Ground Pools fitted with sand filters. As a general rule of thumb, the more money you spend on a Pool Cleaner, the less time you will need to spend keeping your pool clean. The 3 most popular types of Pool Vacuums for Above Ground Pools are listed on the following three pages.

Garden Hose Vacuums (Venturi Vacs)

Commonly used on pools fitted with Cartridge Filtration. You should consider this to be the bare minimum equipment required for vacuuming your pool. This type of Pool Cleaner consists of a Vacuum Head attached to a Garden Hose Pipe and a Telescopic Pole. Water from the hosepipe is fed into the Vacuum Head, creating a Venturi. The water is forced upwards, taking any dirt, leaves etc. at the bottom of the pool with it. The water escapes through a fine-mesh bag, leaving any debris trapped in the bag. The bag is emptied when vacuuming is finished.

Advantages: The cheapest of the 3 systems.

Disadvantages: Will not filter out smaller particles.
Adds water to your pool.
Can be time consuming.
Not recommended for large Above Ground Pools.

Manual Suction System

Consider this to be the bare minimum system if your pool is fitted with sand filtration.
Consisting of a Pool Vac Head attached to a Vacuum Hose and a Telescopic Pole. The Vacuum Hose is plugged into the pools recirculation system; debris is sucked up into the Vacuum Hose and trapped in the pool filter system.

Advantages: Economical, approximately £100 equipment outlay

Disadvantages: Time consuming; alternative Vacuum systems can be carried out when pool is unattended.
Will only work if your pool circulation pump is suitably sized.

Automatic Suction Cleaners

There are numerous brands of automatic suction cleaners available. The Cleaner is linked to your pool filtration via a flexible hose. The Cleaner hose is plugged into either a dedicated vacuum point or into the skimmer. Water is sucked through the vacuum hose as the Cleaner moves around the pool in a random fashion.

Advantages: Few moving parts; therefore little or no servicing. Pool can be vacuumed when left unattended, thus saving time on pool maintenance.

Disadvantages: More costly that a conventional manual Vacuum. May not work efficiently on pools with small circulation pumps.
Whatever system you opt for, your pool will need to be vacuumed at least once per week during the swimming season.